The first "micro lots", blocks measuring just 80sqm, go on sale this year and are expected to shake up the Perth housing market. A sign of the times, as many see things, with Perth block sizes rapidly shrinking to suit the smaller budgets and changing lifestyles of local residents.
The first 80sqm blocks, which will be priced at less than $300,000, go on sale in Ellenbrook and are the smallest green-title lots Western Australia has ever seen, though several local property experts have said we can expect to see even smaller blocks in the future. Some confidently predict that tiny 50 – 60sqm blocks could become the norm within a few years.
Shrinking Lots, Growing Interest
In 2016, Perth's average lot size was 383sqm, significantly smaller than the 2008 average of 525sqm and the 700sqm blocks which were the norm throughout the 1970s. According to UDIA WA chief executive, Allison Hailes, local developers are catering for the needs of lower income earners and time-poor buyers who prefer small lots requiring less maintenance.
The 80sqm lot trial was approved in 2015 and the developer responsible for the project, LWP Property Group, expects construction of the 11 micro-lot homes to be completed about October. Its Innovo village, situated in Ellenbrook, consists of 11 two-storey terrace display homes built on green-title blocks that range in size from 126sqm to 175sqm.
With prices starting from about $320,000 and floorplans reaching up to 200sqm, the project is generating significant interest despite street frontage as narrow as 4.5 metres. Property experts like Ms Hailes believe interest in the micro lots, which are new to Perth, would gather momentum. "Once the community can see how good developments can be on smaller lots I expect interest in them will then start to grow more rapidly," she said.
A growing trend that many have noticed is that people are happy to forego a big backyard if it means they have better access to public amenities and spaces. As LWP managing director Danny Murphy says, "It's a bit like inner-city living but on the fringe," who went to on to say that lot sizes will continue to shrink in size, "We'll start with 80sqm … but we'll get down towards 60sqm — I think in the next three years you will see that in Perth."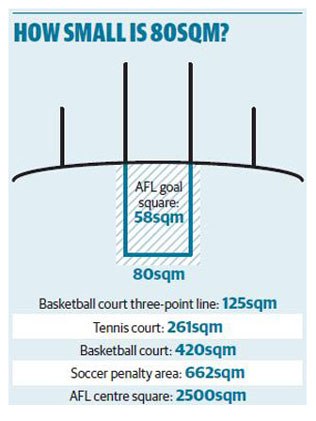 That view is shared by other local property experts, like Brad Thompson whose Perth-based business, Thompson Sustainable Homes, was involved in the Innovo village project. He's of the opinion that Perth would soon be like Queensland and the Eastern Seaboard states where blocks are as small as 50sqm, "That's where the future will be heading in WA."
Local homebuyers like first-homebuyer Natasha Bederson, who bought an Innovo off-the-plan terrace home, cite the ease-of-maintenance, price and absence of strata fees as factors that attract them to micro lots. With more people moving to Perth, a growing population and sluggish income increases, micro lots could be exactly what the city needs to ensure everyone has the ability to buy a property and have a place of their own to call home.