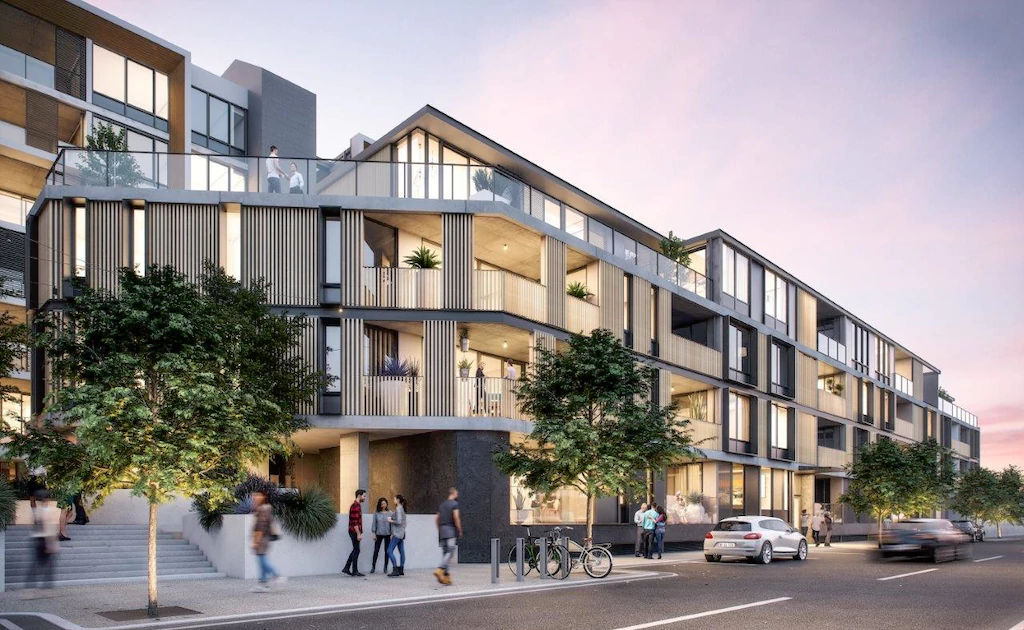 An artist's view of Defence Housing Australia's $61 million Liv Apartment development in Fremantle.
Picture: Defence Housing Australia
Fremantle has been undergoing a quiet transformation in recent years, but a new Defence Housing Australia apartment development project is set to accelerate that steady growth and make Western Australia's second-largest city a target for property investors who've traditionally favoured the larger cities on the Eastern Seaboard.
The $61 million development project is one of the biggest in the city to date and will be built on a 1300sqm space in Queen Victoria Street at the location of a former car yard. In addition to 166 units, Liv Apartments will accommodate several commercial tenancies and attract members of the public as well as ADF members.
Complementing Fremantle's Growth
With the city growing steadily, the time is right for a major development to complement Fremantle's growth, says DHA managing director Jan Mason, "Fremantle has much to offer in terms of amenities — the local pool, fitness centre, art galleries, live music venues, beaches, harbour, museums, cafes and bars — all within walking distance from Liv.".
Along with residential developments such as the DHA's Liv Apartments, Western Australia's bustling port city is undergoing a notable transformation with major urban renewal projects, like the Kings Square redevelopment, seeing $1.3 billion earmarked for renewal and redevelopment schemes.
"It's an exciting place to create a new community," says Ms Mason, who went on to explain that of Liv's 166 apartments, "59 will be retained for Defence members and 107 will be made available to the public." The new apartment complex is within 30km of the ADF's barracks at Irwin and Campbell and is to be completed by next year.
Creating Local Jobs
One of the big benefits of the project is the creation of new local jobs in Fremantle, with 10 staff members from project builder Georgiou Group employed on-site, along with four labourers and up to 15 apprentices employed directly. "We see local jobs for local people as the first step in creating sustainable communities and great places to live," said Ms Mason, who also spoke of how new development projects present great opportunities for local businesses.
"Economic modelling by the City of Fremantle suggests new residents in Liv could potentially contribute $16.7 million to the local economy every year," she said and that, "Liv will have up to nine commercial tenancies, potentially bringing in new businesses and new employees into the precinct."
One Planet Friendly
In keeping with the spirit of innovativeness and ushering in change across the City of Fremantle for the benefit of all everyone who calls it home, Liv Apartments will be the first development project in Western Australia to receive an environmental approval rating under the One Planet guidelines.
These guidelines, a part of the One Planet Fremantle initiative, are based on the principles of waste reduction and leaving a smaller carbon footprint, principles that seek to create a future in which everyone leads happy and healthy lives while using a fair share of earth's resources.
With innovative projects and initiatives like these gaining popular appeal among its residents and business community, Fremantle's transformation is certainly shaping up to be very exciting indeed.