Some people don't' care much care what space looks like, whether it be in their home or office space, so long as the space functions as they believe it ought to…
Are there 4 walls? A roof? A door of some sort? A division of spaces? Great, they are satisfied.
This was much the way the world designed their homes for centuries. There was no need for anything fancy, as long as it kept predators at bay and kept you warm at night, it was enough. It was designed without intention.
On the other hand, through the changes brought about during the industrial revolution and the rise of the middle class, things have changed.
These days, many people greatly value how space looks and feels alongside its pure function. It is much more than just going to the shops and buying things you like to fit in your space.
There is an art to design. A science.
People work hard to achieve a home or business environment that is aesthetically pleasing to the people living or working in the space.
The patterns, colours, textures and other elements you choose to use to decorate your space will say a lot about you as well as space.  These design elements can be chosen by other things in your environment that you find pleasing.
Are you drawn to a certain location? For example, if you are drawn to India, you might choose to decorate in bright colours, deep wood tones, or bold prints. Or, if you are drawn to Japan, you might choose to decorate in clean simple colours, with minimal furniture.
You could be attracted to a certain period of time and choose to decorate your home accordingly. If you are thinking of a retro style, like from the 1940s, you might choose a colour palette and furniture style that is reminiscent of this period in time.
Or, if you like the idea of a futuristic interior design package, you can really be bold and unique, as no one knows what the future holds. Regardless of the interior design style you choose, there are a few principles that hold true across the board.
Pay attention to colours. Colours affect the mood and can lend a certain feeling to your space. This is important when designing a home or office's interior. The colours you choose can help determine how productive the workers are, or how welcome guests feel in your home.
Balance is also an important thing to consider in interior design, but different types of design will lend themselves to different types of balance. In a traditional interior, you will often find that there is symmetrical balance in décor. A more modern design element is an interior with an asymmetrical balance, lending visual interest to the space.
There should be a rhythm to space as well. That isn't to say that everything should be monochromatic and perfectly matched, but space should be cohesive (unless you are going for a look that is bold and having each space being distinctly separate).
Interior design in the home will be far different than interior design in hotels, hospitals, schools, government buildings, recreational facilities and office buildings. The main reason is that in a place of business, the aesthetic must appeal to multiple people, while in a residential home, it needs only to make you and others living there happy.
Now that we have learned a bit about the principles of interior design, we've got some ideas to help you brighten up your space and update your interior design.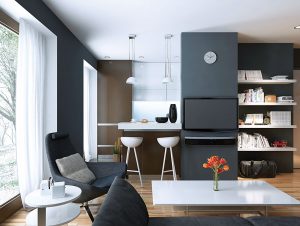 1) The Hipster
A hipster style home is quite popular right now, both in Australia, and the world over.
The design look that comes with a hipster style is really kind of a mix-up of several elements of design. It doesn't take a lot of planning to achieve this look, and it works best for people in small spaces in the inner city, or students living in tight quarters.
Hipster style love all things vintage and retro. It is affordable, and sort of old-fashioned. It is making things from years gone by look modern and chic.
Think New York brownstone. Suede. Dark wood furniture. The furniture you'd expect to see in Nan's home works well here.
Hipster style should never feel forced, rather like it was put together on a whim. This is one place you can really get away with a mismatch of colours, prints and styles.
2) The Zen
A Zen-style lends itself to minimalist design.
It feels very open and airy. Calm. Almost ethereal.
Use calming colours. Light green is versatile and will pair well with almost any design scheme but works especially well to evoke a sense of peace.
Light, earthy, natural shades of wood in furniture are to be expected in a Zen-like interior.
Plenty of light from open windows or a variety of light sources, as well as a multitude of plants, will also help to make the space feel calm and chilled out.
3) Modern
If you are a fan of a sleek look featuring crisp, clean lines, perhaps a modern interior decorating style is what you are after.
Expect to see bold, contrasting colours here. Stark white against a deep navy blue or black is common. The colour palette is very simple, and so is the accessorizing. There is not much in the way of art or decorations to draw your attention away from the simple design concepts.
You can also expect to find many elements of metal and glass used in this modern design style.
4) The Surfer
Surfer style should be reminiscent of the surfer's home – the beach. From the Gold Coast to Cable Beach, there is an expectation of style when one thinks of these places.
Whether they are in the form of wicker furniture, bamboo decorative elements or other places, there will definitely be plenty of wood elements featured in this design. Expect other natural elements such as shells and ropes.
It will be comfortable and there will be coastal colours to remind you of the white sands and blue waters of the ocean.
Hiring Design
Why are you changing up your interior design strategy now? Are you just bored with the old style and in the mood for something new? Perhaps you are moving house and need to sell the old one, but it needs to look updated?
If you need help with interior design, there are many furniture hire companies that will work with you to get the interior design furniture look you are seeking.
Staging House
If you are selling your home or renting it out with furniture included, you can hire an interior designer to come in and do some staging for you.
Hiring a designer to set up your home can increase the selling price of your home. An interior designer can assist you in making your home appealing to a wide array of buyers, rather than making them feel as though they are walking in your home, they can be made to imagine what it would be like if they lived there.
Interior designers can work with furniture, artwork and other things you already own. They can advise you on what items you need to store away, or how to place furniture differently to make the home more pleasing.
If your home is already empty, many home staging companies can bring in a truckload of furniture and fill your house up to meet popular interior design choices.
Commercial Furniture Fitout
If you're looking to revamp the interior design of your commercial or office space, look no further. Several options are available for a commercial furniture fitout.
What is the furniture fitout? In a commercial furniture fit-out, an interior designer works to develop an interior design package that helps to establish the space you are working with.
If you are constructing a new building, an interior designer can work with the architects through the design process. This can help the developer create a cohesive look and design element for the new living spaces.
Interior designers can also provide the development with furniture for common spaces in hotels and apartment buildings. This can include furniture to be used poolside, in lobby spaces, artwork and accessories as well as necessities in the lounge for the residents.
If you are looking to improve the design aesthetic of office space, furniture fitout can be done to improve the look of the place. This can be done with furniture to include boardroom tables and chairs, artwork, office desks, amenities for the staff rooms and furniture for client and customer waiting for areas.
Final Words
Deciding how you want to design your space can be overwhelming, but it doesn't have to be.
If you don't know where to begin, call one of our interior designers.
We can help you with home staging, a residential or commercial furniture fitout, or just advice on where to go with your design choices.